Perhaps it's the vagina, but this is not old to me yet.
The Glitter Girls are getting lots of attention: "Even though I get covered in glitter when I sit near them," said senior Matthew La Pena, "at the end of the day these girls are the perfect women: they love football."
Imagine if I blogged sporadically while COVERED IN GLITTER! You wouldn't even be able to look at me!
Everyone's banking on walk on track star and special teams demon Corey Nelms to catch -- and maim -- C.J. Spiller and Jacoby Ford. "I know both of them from track meets and believe me, they are fast,'' Nelms said. "But I make it a point to be in the right place at the right time.''  7th Floor suggestion: the showers, with a bag of marbles.
Randy Phillips' meastity bested by old lady in Iowa. Truth: all ladies in Iowa are old, in one way or another.
This is your coverage map for Saturday. Basically, if you don't live in the green part or New York City, you should just shoot yourself anyway.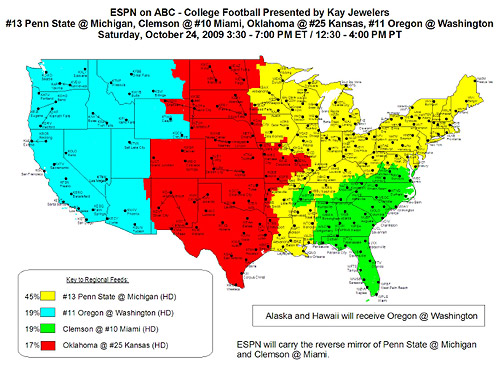 Blah blah blah TIE BREAKER WE WON'T END UP NEEDING.
Steven Rivera, the team's unofficial Official Barber, will be on NBC6 news tonight, following an appearance on Channel 7 and a mention on SportsCenter by SVP. AllCanes will also be selling this t-shirt based on the design he cut into Jacory for Oklahoma.
Our BARBER, everyone.