We now know the answer to the pressing mystery of the season: can John Lovett dance?
Never in question: Jordan Futch, Damien Barry.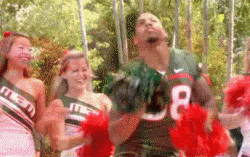 From youtube king Lestat1124, who is obviously a god among men:
PostGame Press Conferences
PostGame Locker Room Interviews
Via the Miami Hurricane's blog, a lil' postgame celebration.
It was just like our living room, 'cept they have pants on.

Galleries: NBC Miami | Miami Herald | Sun-Sentinel | Palm Beach Post | UM 1/ 2
Rumor has it: the sideline crew included Jon Beason, Calais Campbell, Melvin Bratton, Bennie Blades, William Joseph, Roscoe Parrish, Antrel Rolle, Damione Lewis, Donnell Bennet, Greg Mark, Kevin O'Neal,Ted Hendricks, and Alonzo Highsmith.
Some people actually write words about football games. That is because they are crazy.
Dr. Saturday is the first and foremost of these:
For all the goodwill the 'Canes are getting out of this win, this didn't strike me as a jaw-dropping display of dominance. In fact, I'm not sure if I'm more impressed by Miami ultimately taking control of the game in the second second half, or by the fact that that the 'Canes did it despite the worst-case start in the first quarter...

They may have come out a little ahead of where they were going into that game, actually, partly by handling the early adversity against one of the elite lineups in the country, but also by getting Herculean efforts from guys they haven't always been able to count on: Old man Javarris James ground out easily the defining game of his career, 148 yards on 9.9 per carry, and looked like a locomotive with 38 crucial yards on the clock-killing drive in the last four minutes; and the defense that had previously been shredded at Florida State and pushed around in the mud at Virginia Tech straitjacketed OU into just 10 points on 161 yards on its last eight possessions, forcing the game-changing fumble that set up a short, go-ahead touchdown early in the third quarter in the process.

In other words, if not exactly a bloodthirsty dismantling, it was Miami's most complete win of the opening gauntlet, and another frightening vision over the last three quarters of just how good the 'Canes can be when all of their talented pieces come together.
The New York Times:
"The only thing that we're going to watch on TV from now on is SpongeBob," Miami Coach Randy Shannon recalled Harris saying about "SpongeBob SquarePants." "We ain't watching ESPN. We ain't watching CBS. We ain't watching ABC. If SpongeBob can tell you how good you are, then you deserve it."

But Harris isn't limiting Miami's locker room televisions to just SpongeBob. He said he would also allow his teammates to watch the true-crime show "48 Hours."
Andrea Adelson addresses the haters.
Some people may question how strong the Hurricanes are because they beat what has turned out to be a weak FSU team and an Oklahoma team missing Sam Bradford. Perhaps the outcome would have been different had Bradford played. But the Miami offense was able to put up 21 points on the No. 1 scoring defense in the country. The Miami defense played its best game of the season. Oklahoma players began losing their composure in the third quarter, getting hit with back-to-back 15-yard personal foul penalties after driving down the Miami 33 trailing 14-10. Sooners players could be seen yelling at each other.

Miami stayed cool under pressure. Yes, there are problems that must still be corrected -- Miami was flagged for 12 penalties against Oklahoma, missed way too many tackles and have injury problems in the secondary.

But there is no question Miami is on the road back.
Oh, and remember how Patrick Nix could never adjust to anything, anywhere? Someone on a message board I can't remember (sorry, dude) got math-like:
7 plays, 60 yards, TD
9 plays, 52 yard, TD
5 plays, 46 yards, TD
8 plays, 41 yards
1 play, 11 yards, TD
8 plays, 73 yards, TD

What is this? Whipple's first two drives of the second half of the last three games: 6 drives, FIVE TOUCHDOWNS. If Graham doesn't drop those passes against VT, its SIX for SIX. Against GREAT defenses. This, more than anything shows the impact of Whipple.
Yep, that about sums it up. 

Recruits present, so we're told:
Class of 2010 Commits

LB Kevin Nelson (Gainesville)
LB Tyrone Cornileus (Stephenson GA)
CB Jeremy Davis (Cape Coral)
OL Tavadis Glenn (Jacksonville Raines)
TE Clive Walford (Glades Central)
OL Jonathan Feliciano (Davie Western)
OL Shane McDermott (Palm Beach Central)
RB Darion Hall (Naples Lely)
DT Louis Nix (Jacksonville Raines)
CB Raheam Buxton (Pahokee)

Class of 2010 Other Prospects

CB Lamarcus Joyner (St. Thomas Aquinas)
WR Ivan McCartney (Miramar)
OL Brandon Linder (St. Thomas Aquinas)
CB Keion Payne (St. Thomas Aquinas)
WR Sean Tapley (Jacksonville Raines)
LB Christian Jones (Lake Howell)
WR Allen Hurns (Carol City)
CB Tony Grimes (Hollywood Hills)
CB Tyrone Bouie (Sanford Seminole)
OL Patrick Redding (Monsignor Pace)
LB Desmond Bozeman (Dillard)
LB Deon Rogers (Treasure Coast) Georgia commit

Class of 2011 Recruits

TE Nick O'Leary (Palm Beach Dwyer)
DE Curt Maggitt (Palm Beach Dwyer)
S Jeremy Cash (Plantation)
DE Antony Chickillo (Tampa Alonso)
CB Jabari Gorman (Monsignor Pace)
OL Bobby Hart (Cardinal Gibbons)
RB Demetrius Hart (Orlando Dr. Phillips)