"Big time players make big time plays." - Santana Moss
We all know that players win games, and the 2013 Miami Hurricanes have a wealth of talent and experience that could translate into a very nice season.
Following many days of practice, and 2 heavily contested scrimmages, the Canes have released the final Depth Chart of #CanesCamp. While there can be some fluidity, this figures to be the way the team will look as they head into the season, which starts in just 11 days when FAU visits SunLife Stadium. Let's take a look at the  depth chart: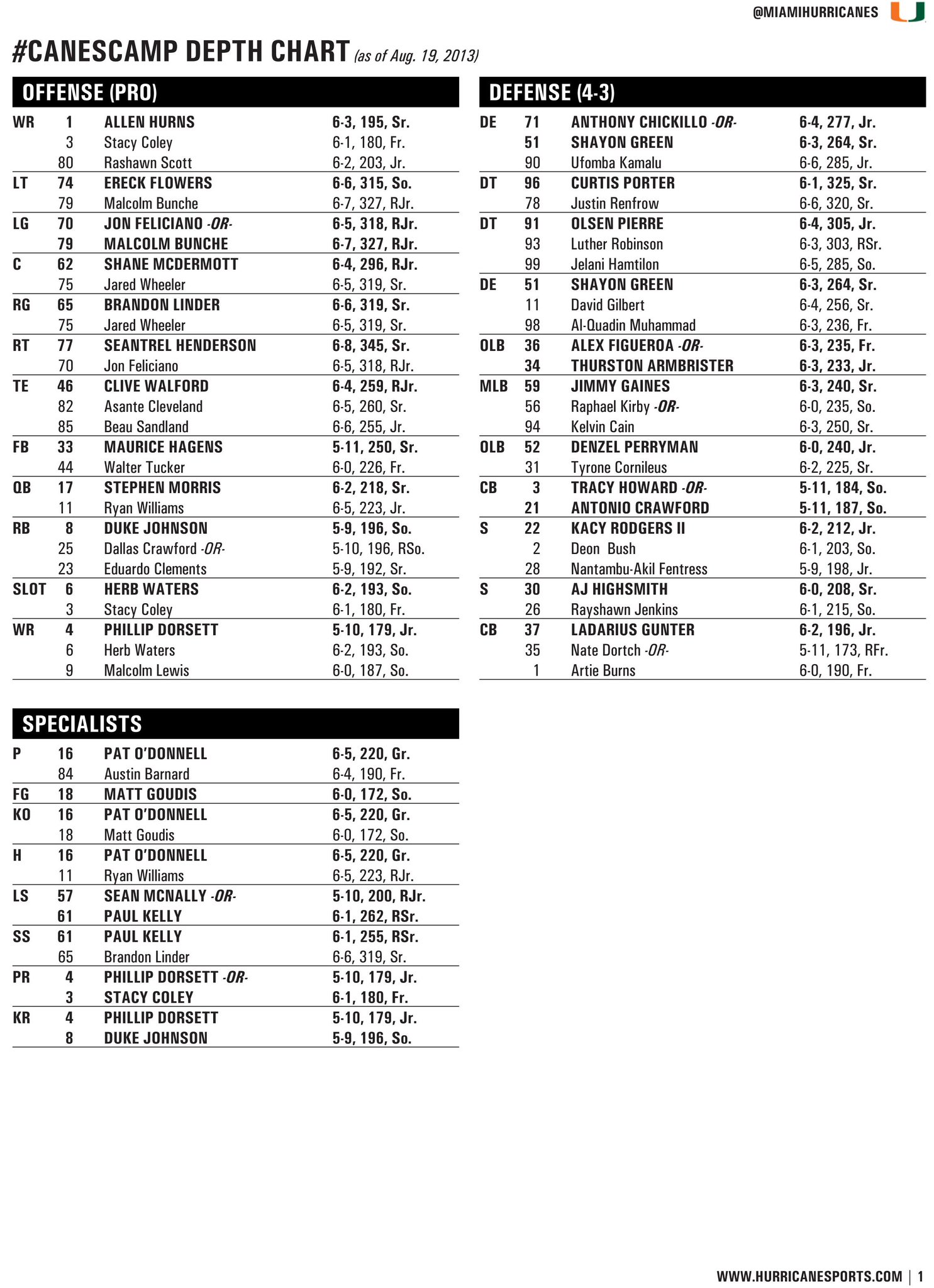 Now, some quick thoughts:
Freshman WR Stacy Coley is now listed as the backup at both outside receiver (behind Hurns) and Slot (behind Waters). I've said it before, and I'll say it again: He's going to play. A LOT.

Rashawn Scott is 3rd at WR behind Hurns and Coley. Not what he (or many Canes fans) hoped to see from him. A very disappointing camp for Scott.

Offensive Line seems to have 6 starters for all intents and purposes. That depth will come in handy as this unit has already been bitten by the injury bug.

Clive Walford has overtaken Asante Cleveland at TE. Beau Sandland still sits 3rd.

Walter Tucker has moved from LB to backup FB. He has good size, and a willingness to mix it up and be physical. Interesting move.

LaDarius Gunter starting at one CB, with Antonio Crawford and Tracy Howard listed as Co-starters on the other side. I still think the best usage would be Gunter and Howard on the outside with Crawford on the slot in nickel packages.

Transfers David Gilbert, Ufomba Kamalu, and Justin Renfrow all listed as backups along the defensive line. They all figure to see plenty of PT this year.

Al-Quadin Muhammad now listed 3rd at WDE.

Chickillo and Green listed as Co-starters at SDE

Alex Figueroa and Thurston Armbrister listed as Co-starters at OLB.

Kacy Rodgers I and AJ Highsmith listed as starters at Safety. This is a huge development. Not at all what Canes fans were hoping to see. The projected starters from spring Deon Bush and Rayshawn Jenkins are recovering from hernia surgery and battling inconsistency, respectively. This could be a major major storyline for this season.
Those are my quick takes. What say you, #CanesFam?