Throughout the spring practice session and during #CanesCamp this fall, there have been many alterations to the Hurricanes football team.
Additions (David Gilbert, Ufomba Kamalu, Justin Renfrow, etc.), subtractions (Eddie Johnson, Thomas Finnie, Jontavious Carter, etc.), and injuries (Danny Isidora, Deon Bush) have changed the face of this team, and obviously impacted previous iterations of the depth chart. Don't remember what the last depth chart looked like? This should refresh your memory: http://www.stateoftheu.com/2013/8/19/4638476/hurricanes-release-final-canescamp-depth-chart
But now, all that is in the past. We have finally gotten the last depth chart of the summer, the one that will be used to determine reps during practice leading up to the FAU game, and playing time once that game kicks off.
Without further ado, here is the latest #Canes depth chart: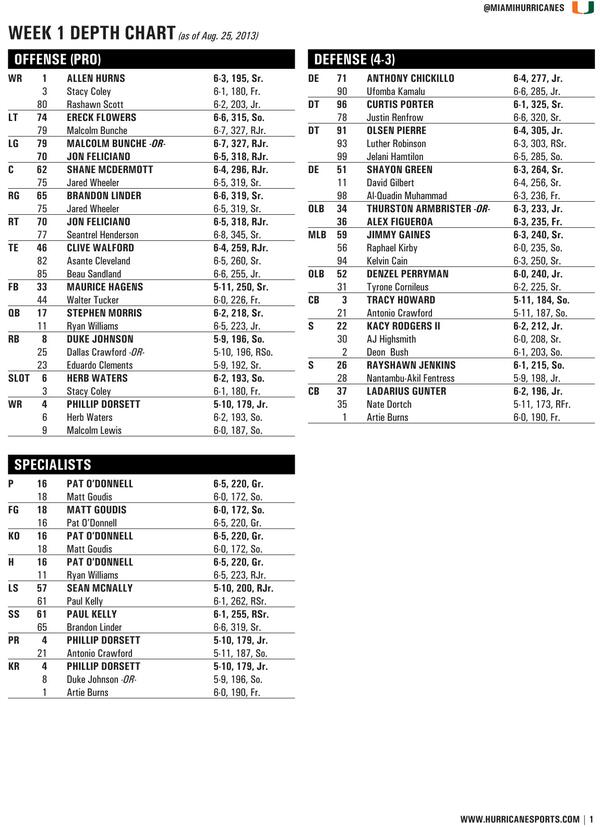 Now, some quick thoughts:
Freshman WR Stacy Coley is still listed at multiple positions on the depth chart. I've said time and time again how his talent is too great to keep him off of the field. It seems his performance so far this fall has proven those statements to be true.

Tracy Howard wins Starting CB job from Antonion Crawford. Both will play extensively in Nickel sets.

Rayshawn Jenkins gets his starting job back at Safety.

Deon Bush listed 3rd behind Kacy Rodgers II and AJ Highsmith. That'll last until Bush is 100% healthy.

Jon Feliciano listed ahead of Seantrel Henderson at RT. That won't last long.

TE depth still Walford, Cleveland, Sandland. If that is to be changed, in-season play figures to alter that.

Gilbert, Kamalu, and Renfrow all listed as 2nd teamers along the line still.

Jelani Hamilton still listed at DT. Seems as though that move will be permanent.

Antonio Crawford overtakes Stacy Coley for backup PR. Interesting.
Those are my quick thoughts. What are yours, #CanesFam?