The success of any team is based largely on the players who are on the field playing. Without further ado, let's look at the newly released depth chart: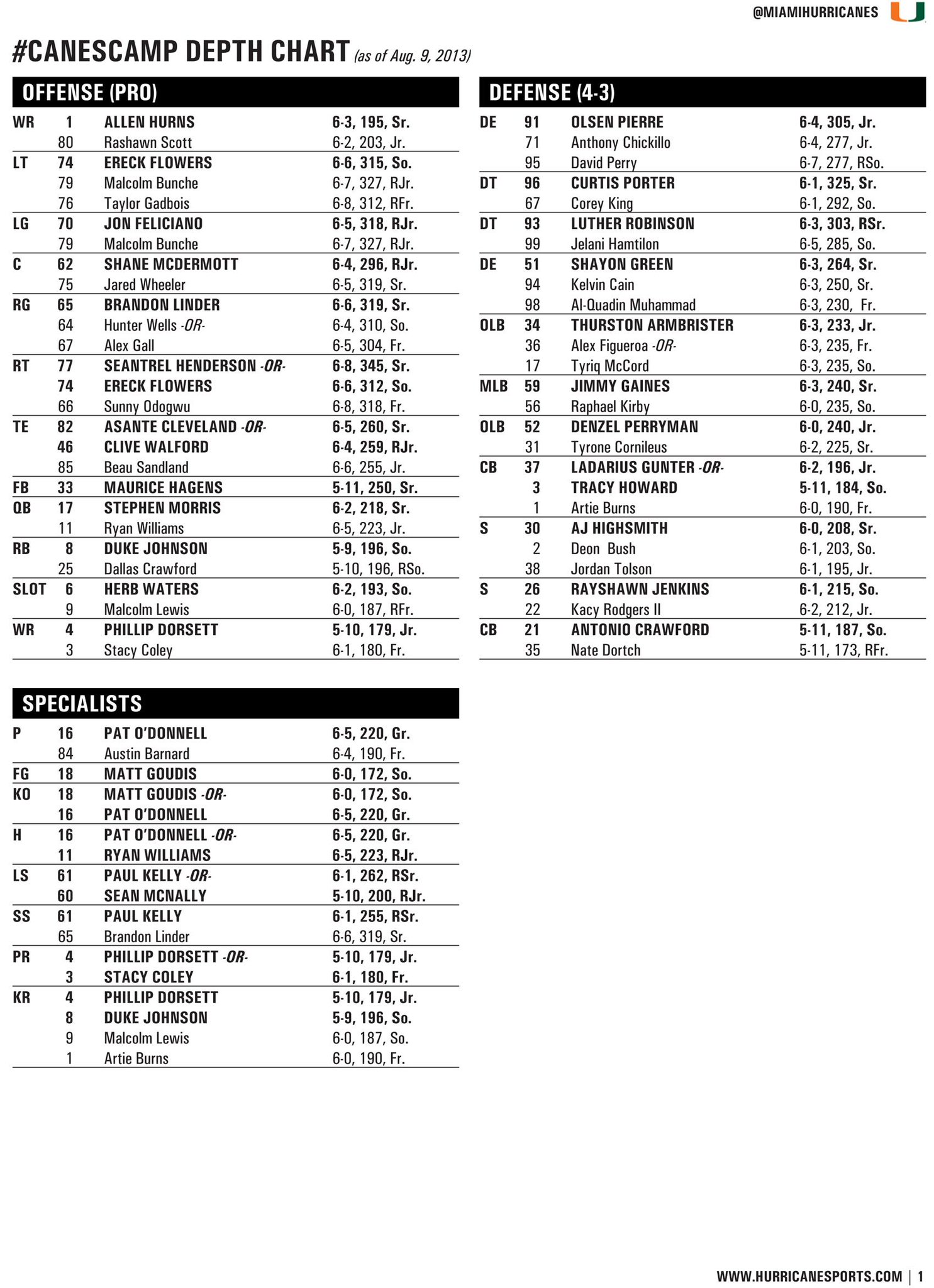 via @ChrisYandle's twitter account.
Quick reactions:
Olsen Pierre is at End. He was a player we thought would see most, if not all, of his time at DT.

Pierre over Chickillo. Yes, I know Chick has been injured, which is probably the reason for him not sitting atop the depth chart. Still an interesting point.

Jelani Hamilton is at Tackle. He was against moving inside when he was coming out of HS. Interesting to see how long that lasts/what happens here.

Ereck Flowers atop depth chart at both LT and RT. He shares the top of the depth chart at RT with Seantrel Henderson (who seems to finally be putting things together), but it's looking more and more like Flowers is going to start somewhere on the line.

Jon Feliciano leading the battle at LG over Malcolm Bunche. This will be a battle to the end, and Bunche could be the super utility man if not the starter.

Dallas Crawford listed as backup to Duke Johnson. This falls in line with what we've been hearing out of camp. I'm interested to see where Gus Edwards fits into the equation at RB.

Clive Walford/Asante Cleveland battle for the TE spot. Golden has spoken highly of Beau Sandland in recent days. I can see all 3 players getting rotation time, regardless of who starts.
Hurns, Dorsett and Waters your 3 starting receivers. Stacy Coley all the way up to 2nd team behind Dorsett. Like I've said both on here and on twitter, Coley is going to play. A lot.
Not listed on the depth chart: Julio Derosier, Justin Renfrow, and David Gilbert. These players figure to be on the team once cleared (or graduated in Gilbert's case). When that clearance will come is anybody's guess.
Thurtson Armbrister still leads Alex Figueroa/Tyriq McCord at SAM linebacker. Another good battle that should last the duration of camp.
Al-Quadin Muhammad listed as 3rd team DE. Should still see at least spot duty in passing situations.
LaDarius Gunter and Tracy Howard co-starters at on CB spot, with Antonio Crawford at the other. All of these players figure to be on the field in nickel situations. The depth and quality of the CB position has increased greatly to this point. This progressions needs to manifest itself on Saturdays, but the early returns are positive.
Nate Dortch listed as backup to Crawford. He's been making plays all camp. His improvement, and the addition of Artie Burns (who is also high on the depth chart) can only help the Canes' secondary.
Rayshawn Jenkins over Kacy Rodgers at Safety. This is not a surprise. I expect big things from Jenkins.
AJ Highsmith over Deon Bush at the other Safety. This is a result of Bush being limited as he recovers from sports hernia surgery. Once he's back, he'll start.
Ryan Williams firmly slotted to be the backup to Stephen Morris. Again, not a surprise.
Phillip Dorsett and Stacy Coley co-starters at Punt Return. Again, Coley is going to see the field this year. Bank on it.
Dorsett, Duke, Malcolm Lewis and Artie Burns listed as Kick Returners. All of these players, as well as Coley, are able to positively shift field position with their return abilities. Special teams, which are overseen by Golden himself, looks like a strength on this year's team.
#CanesCamp is just wrapping up it's first week, and these positions are far from settled. Still, I'm encouraged that rhere are SO MANY position battles right now. It speaks to the increased depth on this team, and can only help as the Canes move into the season.
Those are my quick thoughts. What are yours? Share them in the comments below.