First of all, I want to congratulate Shane Larkin on being drafted by the Atlanta Hawks, and then traded to the Dallas Mavericks. Shane was a critical piece in last season's Sweet 16 team, and we wish him nothing but the best at the next level.
Moving on, let's take a look at the scholarship matrix and see what is ahead for the future of Miami basketball.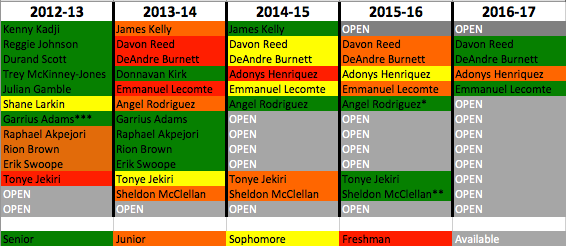 * Angel Rodriguez, a transfer point guard from Kansas State, has applied for a waiver to play immediately in 2013-14. Should he be granted this waiver, he will be a Junior in 2013-14, and a Senior in 2014-15. If he is not granted this waiver, he will redshirt the '13-'14 season, and be a Junior beginning in the '14-'15 campaign.
** Sheldon McClellan recently decided to transfer to UM from the University of Texas. Contrary to Angel Rodriguez, McClellan will not be granted a waiver to play immediately, and thus, will take a redshirt in '13-'14 and start his career as a Cane in the '14-'15 season as a Junior.
Some additional notes:
- The first thing that really jumps out at me is the lack of front-court depth that Miami will have after this upcoming season. Donnovan Kirk is a solid band-aid, but since he is a graduate transfer, he will only be eligible to play for one season. For the '14-'15 season, Miami has two true big men (Jekiri and Kelly), one wing player (Davon Reed), and 5 guards (Everybody else). Miami will have 6 scholarships to use in '14-'15, assuming nobody leaves early (keep in mind that Adonys Henriquez is a 2014 recruit, but since his commitment is viewed as solid, he has already been added to the matrix), and I'd expect at least 3 or 4 of them to be used on big men, and at least 1 of them will be a transfer, if I had to guess.
- With that said, guard play is going to be a huge strength of this team going forward. Rodriguez will be the primary point guard, and seeing as he isn't much of a scorer himself, that opens the door for DeAndre Burnett, who can really light it up, as well as McClellan and Henriquez.
- Emmanuel Lecomte is going to be a big factor this season if Angel Rodriguez doesn't get his waiver, as he would be the only remaining true point guard. Burnett can play point guard if needed, but his strength is definitely scoring rather than distributing. Lecomte is undersized, but has plenty of experience, having played for Belgium's U18 team at the age of 16, where he averaged 12 points and 3 assists per game.
- This list does not include Corn Elder and Derrick Griffin (who will hopefully get in to school). Elder and Griffin will be on football scholarships during their tenure at Miami, but both hope to walk on to the basketball team once football season comes to a close. That should coincide with the start of ACC play, when the additional help will definitely be welcomed. Elder is a lightning quick point guard with some range and great defensive instincts, while Griffin is a ridiculous athlete who is great in transition and can defend multiple positions.
- I think that Tonye Jekiri is going to develop in to a star. Please let me be right about this. We're going to need it.